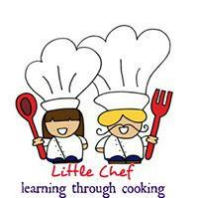 The pandemic has taught us to do things in different ways. Many have developed a passion for cooking and others the desire to improve their cooking skills. Our weekly online cooking classes are the ideal way for students to develop, build upon, sharpen their culinary skills concepts (like palate development and knife skills) throughout the cooking activity. Also, doing the cooking online means we cook at home and home cooking is more than the food itself. It's about unforgettable experiences at home with your family and loved ones.
Benefits from Cooking Online class:
Access
Participants who are taking our online cooking classes can access them from G-meet. Our  cooking class will be held every Wednesday from 3pm – 4pm (link, schedule, and  recipes are given). We do not provide the ingredients.
Awaken creativity
Learning new techniques, new ingredients and recipes will enhance creativity in the  kitchen.
Home economy
Understanding portions makes us more conscious of our spending.
New culinary techniques
New culinary techniques help us achieve the exact timing to obtain an exquisite dish,  prevent bad food handling and avoid accidents in the kitchen.
Healthy eating
The right online cooking class can help to improve our diet.
Stress relief
Cooking is proven to improve mental stability, reduce anxiety and depression. This is also a good time to focus on the activity and get away from the negativity that Covid has generated for many of us.
Unforgettable moment
Learning new skills will turn into unforgettable experiences with family and friends. Also  cooking is an ideal way to boost self-confidence and to learn responsibility.