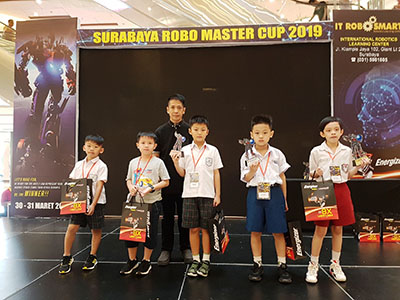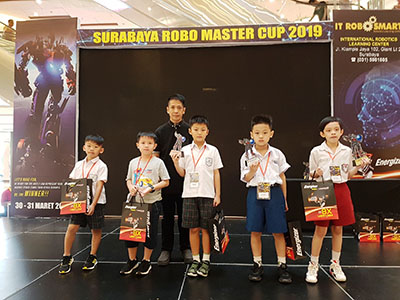 The ROBOTICS CLUB is a hands-on learning activity, encouraging students to be Creative, Innovative and generating ideas to enrich their knowledge in Science and Technology. 
WHY DO ROBOTICS?
It is New Era for Robotics

It is New Era for ICT (Information & Communication of Technology)

It is about Artificial Intelligence knowledge (STEM, Arts etc)

It is about Innovations & Creativity

It is Fun and Exciting
WHAT LEARNING SKILLS DO STUDENTS GET FROM ROBOTICS?
Learning skills in 3C (Creativity, Critical & Confidence) 

Ability to improve logical thinking

Learning about problem solving

Learning about life & social skills

Never give up and dare to challenge
ONLINE ROBOTICS CLASS THROUGH ZOOM
Every Thursday at 15.00 – 16.00 PM
The Robotic competition held annually, is an opportunity to perform and challenge the ability of students in their Building Skills, Creativity, Logical Thinking, Teamwork and Problem Solving.
ROBOTIC COMPETITION 
 Surabaya Robo Masters Cup (SRMC) 
Note: Due to Covid19, it is temporary pending
Science and Technology is getting faster, we must be more skillful, creative and full of innovation and ideas in order to compete in this new global era.
It is time for you to be part of our Robotics Club! students will learn a lot and increase their knowledge for their Best Future Education.