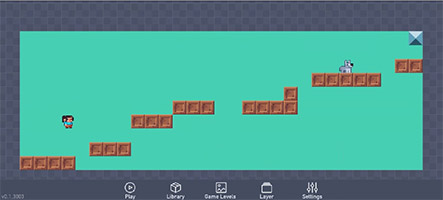 What is the 2D Game Maker Club and the objective?
Actually, the idea came about when I saw there were many students playing computer games during break time with their laptop. I saw their excitement to play even though it is a virtual game. Therefore, I thought that it would be better if the students are not only able to play but also able to create their own game, by doing that they could make the obstacle more challenging. 
This idea is to change the way of thinking from being a user to becoming a creator. I then challenged my students in my design class to make a game for educational purposes. The game should be interactive, so it must respond to different input from the user. Therefore, they start to learn how to make control structures with coding. Although many students are interested, not many are able to complete the challenge because they have to conduct research about the technique to learn it through an inquiry learning process. 
That is why I thought of offering this club in CCA to help students. I hope students can use current technology to create their masterpiece. In the past they played games with Flash, but now it has changed with games, which are run in a browser using HTML 5.
Of course students must understand that making an interesting game cannot be done instantly and require skill and perseverance in addition to creative ideas. At first, they may learn to make a game for beginners. I will guide students to make their own game based on their selected topic and publish it on the internet. By doing this they can let their friends in the club review and give feedback for improvements. After getting proficient, they can develop the idea to make it a more challenging game with another application.
This activity is useful for preparing students' technical skills while working on the project. I hope in the future students also get involved to take part in competitions in this area.